Let us find what you are looking for….
A little history…
Express Car and Truck Rental was founded in 1998 by Jim Colalillo when he started his fleet with just five rental vehicles. With over 40 years of experience in the automotive industry and servicing over 35,000 clients, he has taken his customer satisfaction one step further by incorporating Express Car and Truck Rental with his full-service automotive repair facility, Colalillo Automotive Services Ltd.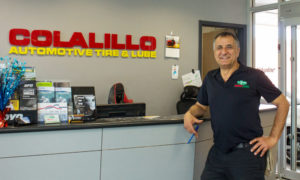 These two companies go hand-in-hand. On the one hand, Express Car Rental vehicles are all serviced in a timely manner by our own Class-A mechanics. This ensures our complete control of the safety and condition of our rental vehicles. On the other hand, if a Colalillo Automotive client requires a vehicle while theirs is in for repairs, there is no waiting around….just go to the next desk, and away you go!! With his professional and knowledgeable staff, and a fleet of over 250 vehicles, ranging from compacts such as Toyota Yaris, to Premium Luxury such as Mercedes-Benz S550 and BMW 750 Li, Jim Colalillo has continued to grow his companies steadily, with a large pool of repeat clientele. He has now branched off again, into automobile sales. Yes, Express Car Rental now sells its vehicles.
We specialize in 11, 12 and 15 Passenger vans, as well as Direct-Billing Insurance rentals. We carry a wide variety of makes and models. We are available 24-hours a day, 7 days per week for Insurance replacement rentals.
If you need a vehicle for insurance replacement or moving, or you just want to get away for the day, give Express Car and Truck Rental a call. Let us find what you are looking for….and let history repeat itself.
Automobile Rentals and Sales
Full Service Automotive Repair
Professional & knowledgeable staff
Specialty passenger van rentals
Insurance replacement rentals
Great staff and mechanics. I am taking my cars to them in the last 5.5 years. No issues, but peace of mind. if you want peace of mind just bring your vehicle to them. Also, you can have a rental car when yours in the service at a very low cost. Highly recommend them!

Barry Ozol

The facility is modern, clean, comfortable and even offers free wifi and shuttle service. They also have a car rental company on site so if my vehicle ever needs to stay overnight, I can drive away with a very inexpensive rental (for less than half what rental companies normally charge). If you are looking for a friendly and honest mechanic that you can trust, Colalillo Automotive is the place for you!!!

Local Guide
Our inventory is always changing
SOME OF OUR FEATURED BRANDS